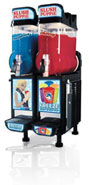 SlushPuppie
Slush Puppie is a well known and trusted national brand. It is an intense frozen beverage that appeals to both kids and adults. Slush Puppie is considered the original non-carbonated frozen beverage. With 20 flavors to choose from, each non-fat, non-carbonated, caffeine free Slush Puppie is brimming with pure beverage and ice. Flavors include:
Cherry
Blue Raspberry
Licious Lemon Limecicle
Kiwi Strawberry
Polar Purple Shiver
Strawberry Banana
Cherry Limeade
Green Apple Ice Cap
Pina Colada
Mango
Tropical Juice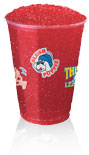 Slush Puppie Plus is a 100% juice-based version of the original, excellent for Schools, Hockey Rinks, Pools as well as any location looking for a more healthful beverage alternative. Slush Puppie Plus Fortified contains the 100% juice of the traditional line, and is fortified with vitamins A, C, D, E, Calcium and fiber.

Why Slush Puppie? In a Sales environment installing a Slush Puppie machine can open the door to even more sales opportunities. It attracts kids and adults and drives purchases during off-peak impulse periods. In Schools and kid venues it offers a healthy alternatives to other drink options. There are units for every need, from low volume to high volume units with auto-fill capabilities. Watson Company installs and services all equipment. This local servicing of your equipment guarantees the maximum worry free use of your Slush Puppie equipment.